's Titanium Posts for DIY Earrings
Hypoallergenic Titanium Posts with pads for attaching to your own earrings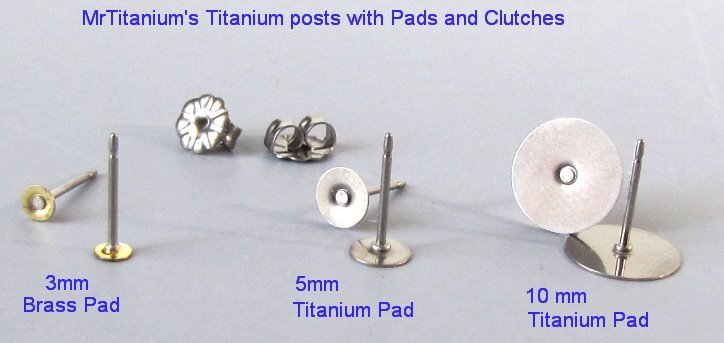 About the Pad Choices:
All posts are 10mm (~3/8") long.
The 3mm (~1/8") brass pad is smallest, but can be soldered
The 5 mm titanium pad is a good all-around choice
The 10 mm pad is best suited for larger earrings, as it has the greatest holding power.
All posts come with titanium flower clutches
---
How to attach the pads:
In general, not much sticks to titanium; the hypoallergenic surface is also non-stick. The brass pads can be hard-soldered, soft-soldered, or glued in many ways.
But the titanium pads require strong glue. It also helps to scuff the contact side of the titanium pad with sandpaper or some such. Glues adhere better to the rough and freshly exposed surface.
---
Preferred adhesives:
I usually use one of the cyanoacrylate adhesives (
Super glue
, Crazy glue). This type of adhesive sets by becoming hypoallergenic polycabonate (Acrylic, Plexiglas, Lexan, etc). I usually coat the brass pads with this for the hypoallergenic folks.
Previously, I was partial to two part
Epoxy
glues. These are very strong and a little more flexible than the Super glue family. They give you longer working time, and are less likely to glue your fingers together. The disadvantage to epoxies is that the uncured resin may irritate skin. So it is important to carefully measure and thoroughly mix these. For extra protection for sensitive people, you can wipe the cured surface with acetone to wash away uncured traces. For even better hypoallergenic-ness, put a coat of superglue on the exposed surface.
Another good adhesive for titanium is
E6000 Silicone
adhesive. This is slow setting and stays flexible. If attaching to materials that expand and contract much differently than titanium (wood, plastic, etc) then this is the way to go. I order E6000 from
Reactive Metals
, one of my favorite titanium parts and tools suppliers.