Above: Working on a multi-colored pure gold wedding band. Gold alloys comes in a variety of colors, such as red, yellow, green and white.
Back in the dark days of disco (1977), young Dan discovered the pleasures of forming, forging, and fusing metals. It began in an art class, where wax was transformed into metal, and flights of fancy found root in brass and silver. At this same St. Louis county education mill, he picked up his award-winning skills in photography, and an initial understanding of quantum physics. "Physics?" you may well ask. The common thread is light. Photons. Those elusive, illusive wavicles which reflect, refract, and shimmer from surfaces: Colors, images, refraction, holography, and shine.
In the early 1980's, after a couple of years of advanced silversmithing studies, he also learned the craft of fooling light into refracting from the clear surface oxide formed on
Titanium
to create colorful patterns. Jewelry made with this technique became his main means of income in college (beyond parental subsidies).
In 2001, after an 18-year hiatus during which he was immersed in the bits and bytes world of computer geekdom, (
web design
, software development, systems integration, database yadda yadda,
etc.
), Dan has again picked up the tools, tuned his homemade anodizer, and resumed working on this craft. Pieces currently for sale are
available online
.
This is a sterling silver pin with anodized
titanium
inlay. I consigned it to someone in the late 1980's, and she disappeared before I could collect. This is one of the hazards of the trade.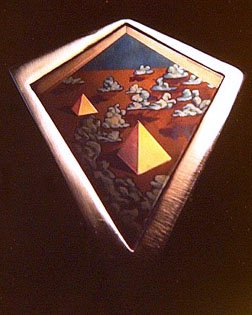 "Over the years, I've made several sets of gold wedding rings (mostly for friends), brass and silver shellform sculptures, and titanium projects from small ear studs to large clocks."
Some samples are shown here, in the background, & on my
Art for Sale
page.
At
Washington University
, I learned the traditional skills of shellform silversmithing. You know, techniques such as those which Paul Revere and the artisans of the Pharoahs used. This was a brass shellform project, a cannister, which began as a project to set the 2 matched tiger-eye cabachons which are its eyes.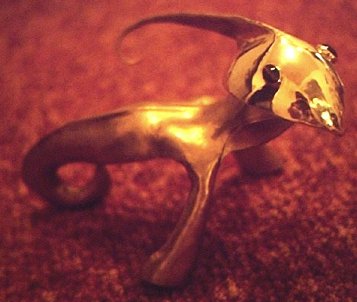 Titanium handed clock with 14" long minute hand.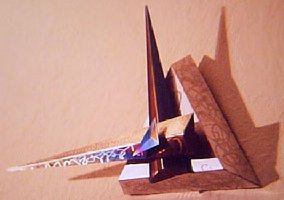 (Click for more clocks)
Two
titanium
pendants made 6/2001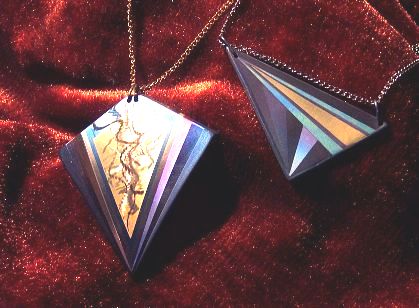 So, where did "MrTitanium" come from? Well, another jewelry vendor hailed me by that moniker from across a parking lot at a Science Fiction convention (a venue at which people who knew what titanium was loved my wares.)
At first I was surprised. Then, it just seemed to fit, so I finally (Dec. 2002) put the name to use right here, on the friendly (?) neighborhood (!) internet.